Why choose a Gretna Wedding Cake from Jenny's Cakes?
We provide high quality wedding cakes, baked and decorated by hand and personally delivered to your venue in and around Gretna/Gretna Green.
We are recommended suppliers to many of Gretna's most popular wedding venues, including Smiths Hotel, Greens Hotel, Gretna Hall Hotel, The Gables Hotel and The Mill Forge.
You will find below single tier wedding cakes and two tier cakes so suit smaller wedding parties of around 20-50 guests. Prices below INCLUDE personal delivery to your venue by Trained Bakery Staff (NOT just delivery drivers.)
You can now personalise and order your Gretna Wedding Cake directly on this website- just click the small photos below for more details, choices, pricing and ordering information.
Why should you trust Jenny's Cakes?
We have over 32 years experience as a professional family business.
We are proud to have won multiple National Wedding Cake Awards and nominations, based on customer feedback and our drive to provide excellence in customer service.
Jenny's Cakes are current holders of the prestigious VOWS AWARDS for 2017 Wedding Cake Designer/Baker of the Year (also known as the Scottish Wedding 'Oscars') .
We were National winners of the Scottish Wedding Awards National Wedding Cake Designer of the Year in 2016.
(We have been nominated for another Scottish VOWS Award for 2018, making us nominees for THREE years in succession, a rare feat indeed, and something we are very proud of.)
Gretna Large Single-tier Square Scottish Wedding Cake
jc-G18-S2A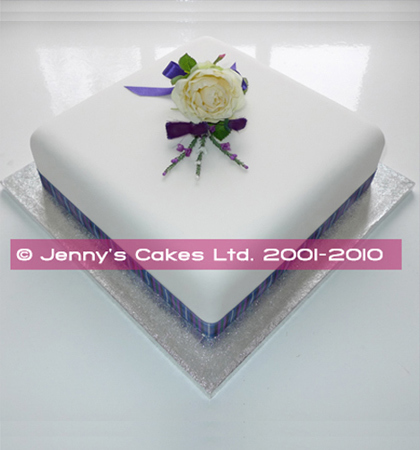 Gretna Wedding Cake- Large Single-tier Square Cake with Silk Topper and Tartan ribbons.
Ref jc-G18-S2A Large Square Single Tier Wedding Cake with Tartan Ribbons- based on traditional Scottish elements including thistles and tartan ribbons. Provides around 50 portions.

This square Scottish Wedding cake has been designed for weddings at Gretna Green- a simple square wedding cake, decorated with a spray of small silk thistles, heather and blossoms, a large silk rose and soft organza ribbon loops. Displayed with a Pride of Bannockburn Tartan Ribbon around the cake (other ribbon options available). The board will be coated with sugar-paste to match the cake, and a narrow plain ribbon around the base board of the cake completes the design.
Cake Flavours-

Choose your combination of flavours from Vanilla, Chocolate, Real Lemon, Victoria Sponge, or our new Light Golden Rich Fruit Cake, all made to order by hand in our bakery.
Priced from just 165 including personal delivery to your Gretna Wedding venue.
Available to order online for a stress-free wedding cake experience!
No need to worry about couriers,collecting and transporting your cake or assembling the cake yourself! Just fill in the order form opposite and we will do the rest, including personal delivery to your Gretna venue!
(We aim to confirm your order within two working days.)
We hope to hear from you soon!
Best wishes, Tom and Jenny Breen, Directors, for Jenny's Cakes.
Silk Rose colour/Thistle Spray
Cake Colour
White (0) Ivory (10)
Delivery (Gretna/Dumfries)
Date of Wedding Reception
Approx. time of Reception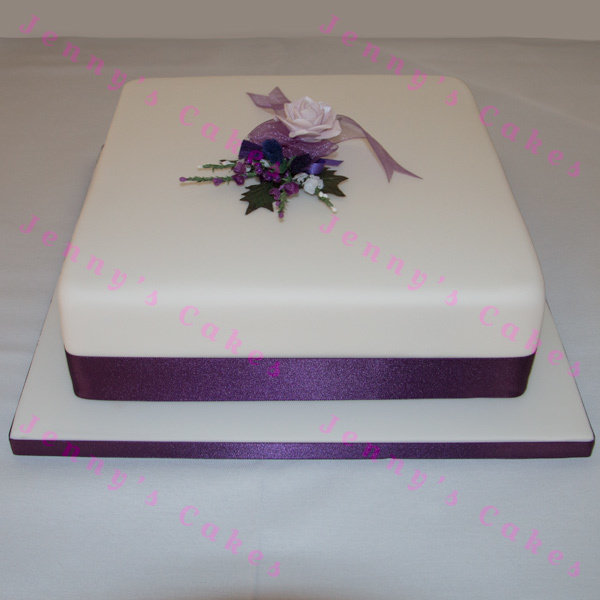 How to choose your Gretna Wedding Cake
We have selected a number of smaller wedding cakes suited to weddings at Gretna Green. Our range of 'Gretna Wedding Cakes' represents Exceptional Value for money, but still maintaining our famously high quality taste and finish.
You can choose from a range of flavours including vanilla, chocolate, lemon, victoria sponge and light golden rich fruit. 
You can also choose cake colours, different ribbons and even different sizes too!
We have achieved these low prices by simplifying and standardising sizes and decoration, and saving design time and 'Tea and Tasters' sessions and design consultations.
Importantly, the quality of the cake itself is of the same high standard as all our more expensive and complex cakes.
If you would like to spend time with us in customising or personalising your design, we would respectfully suggest arranging a FREE Tea and Tasters and design consultation at our bakery. We can then design and price a wedding cake specially for you!
If you have specific ideas about your how you would like your wedding cake to look, please get in touch- we would be happy to discuss your ideas in more detail.
We hope you like our range of Gretna Wedding Cakes, and we hope to hear from you soon!
With kindest regards, Jenny and Tom Breen (Directors of Jenny's Cakes.)